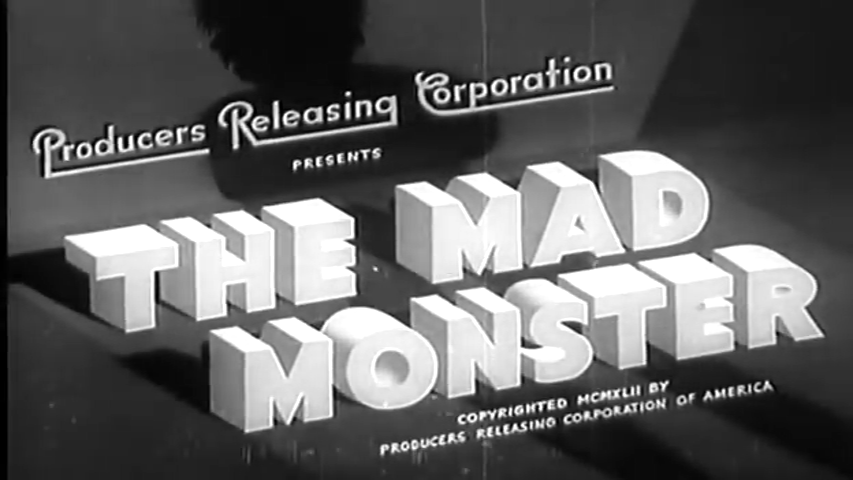 #376 – The Mad Monster (1942)
The Mad Monster (1942)
Film review #376
Director: Sam Newfield
SYNOPSIS: Dr. Cameron, a scientist, has been experimenting with genetic modification, a practice which has left him the subject of ridicule and forces him from his university job. Out in the country, he experiments on his hired help Pedro to turn him into a werewolf, but when Pedro starts killing people in his werewolf form, Dr. Cameron finds it increasingly difficult to keep his experiments a secret…
THOUGHTS/ANALYSIS: The Mad Monster is a 1942 horror/sci-fi film. The film centres around Dr. Cameron, a scientist whose experiments in genetic engineering have left him ridiculed and cast out of the scientific community. He moves out into the country with his daughter Lenora to carry on his experiments, using his hired help Pedro as a test subject. Cameron successfully develops a serum that can turn Pedro into a werewolf-like creature, which ends up escaping and killing a little girl. Pedro is unable to remember the time when he is transformed, so Cameron uses this to his advantage to take revenge on those that ridiculed his research. The story is quite straightforward, and there's no real surprises. The plot is all explained at the beginning, and it is up to the characters to unravel the mystery themselves. there's nothing really special about the film, it's another simple story of science going too far that has been done many times before (and after).
The film attempts to create a horror atmosphere through some creative use of lighting and dark, minimal sets. Although all the violence happens off-screen (this is the 1940′s after all), so it is difficult to get much of an idea of how vicious this werewolf creature is. The cast of characters is pretty bland, but well defined, and everyone contributes to the story in some way. The acting and delivery of lines is sometimes a bit flat, but credit to the actor playing Pedro, who gives an expressive performance. One of the biggest drawbacks of the film is that it often feels boring, with scenes that drag on too long consisting of dull conversations that go nowhere. You become very aware of the beginning and ending of scenes as they mostly end on flat notes without much fanfare, leaving you to wonder what the point of it was.
As mentioned, the production values of the film are rather low, owing to the general state of the world at the time and having more pressing issues to address. Nevertheless, there are a few positives, such as Pedro's "werewolf" make-up or costume being quite well put together. Sometimes Dr. Cameron delivers a good speech under an atmospheric light, but other than that there's really not much else that stands out. The Mad Monster is an entirely forgettable film with a typical message of science going too far, and a blandness in terms of its looks and its dialogue leave little to recommend it.