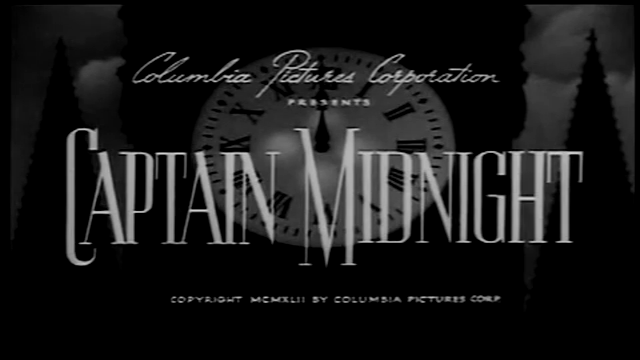 #422 – Captain Midnight (1942)
Captain Midnight (1942)
Film review #422
Director: James W. Horne
SYNOPSIS: Professor Edwards has invented a new type of radar that will surely help the U.S. government in the war effort. However, a foreign power has employed criminal mastermind Ivan Shark to steal the device for their own use. Ace pilot Captain Allbright uses his secret identity of Captain Midnight to try to stop Shark and his men before the device falls into their hands, and to stop Shark's bombing of American cities using his own aircraft…
THOUGHTS/ANALYSIS: Captain Midnight is a 1942 movie serial based on the radio plays of the same name. The plot is fairly straightforward and very familiar if you've ever seen a movie serial from this era: Ace pilot Captain Allbright uses his masked alter-ego Captain Midnight to stop a criminal from stealing a new weapon and selling it to an enemy government. It's the same plot used through many wartime serials that would have had contemporary relevance. Unfortunately, there isn't much content to separate it from the rest of similar serials, as there are plenty that use masked alter-ego's, and also lots that centre around the use of planes. While using the characters from the popular radio play would have brought in extra viewers, there isn't much uniqueness that viewers will get from the serial. The villain's plots of stealing a new invention and bombing American cities are a bit interchangeable, and the serial moves back and forth without any real continuation or progression of the plot, resulting in very little development over the course of the fifteen chapters. Like every other serial, each chapter ends in a cliffhanger in which Captain Midnight faces certain doom only for it to be quickly resolved at the beginning of the next chapter. While these resolutions are usually anti-climactic, the serials produced by Columbia Pictures often have the least creative solutions, with Captain Midnight mostly just escaping car crashes or explosions by just walking from them a little dazed. In one such cliffhanger, he just walks away from a plane crash and jumps into a fistfight, which is quite ludicrous even by the serial's standards.
Captain Allbright/Midnight is the typical serial hero: the square-jawed all-American hero who gets into plenty of fights and daredevil escapes. There doesn't seem to be much point in his alter-ego: everyone seemingly knows who he is, and it wouldn't matter if he was exposed or not. His "Secret Squadron" who aid him in his heroic deeds don't really have a part to play, and what little we see of them shows they only fill very typical roles of sidekicks. Major Steele, Midnight's government contact, is the authority figure who gives the orders and who Midnight plans with to catch the villains. The main villain himself, Ivan Shark, has a distinguishing trait in that he is a master of disguise, and subsequently disguises himself as a number of the serial's characters over the course of the fifteen chapters; including Captain Midnight himself. His disguises also come with dubbed voice-overs of the characters he is playing, which is very obvious. It's a trait that was used by the protagonist in The Spider serials, and definitely used to better effect there. Shark's daughter Fury (that is her name apparently) has a role as second-in-command, but doesn't really play much of a part. At the start of the serial, she seems reluctant to follow some of her Father's schemes, leading me to believe she may be a character that swaps sides and questions her loyalties, but that is perhaps too complex for this serial, as this trait is soon forgotten and quickly becomes just another flat villain giving orders.
The main problem with Captain Midnight is that it's story goes nowhere. There's no build-up, and the focus keeps shifting so it feels like nothing of consequence is happening, which means it is going to be difficult to keep viewer's attention over the course of fifteen chapters (or four and a half hours). Some of the stunts are decent, but nothing too outstanding, and there's not enough plane-based scenes that you might expect from the titular character. The villain's motivations are confused and all over the place, which further confounds any attempt to advance the plot. Although it doesn't stray from the typical serial formula, there's definitely better examples of the format you can watch.