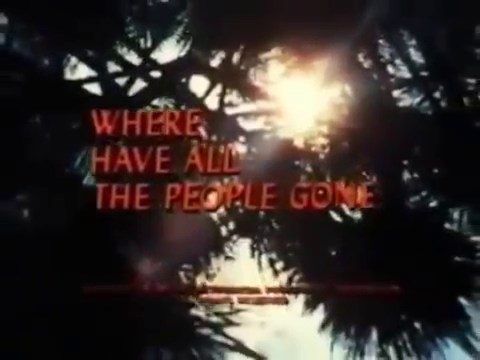 #513 – Where Did All the People Go? (1974)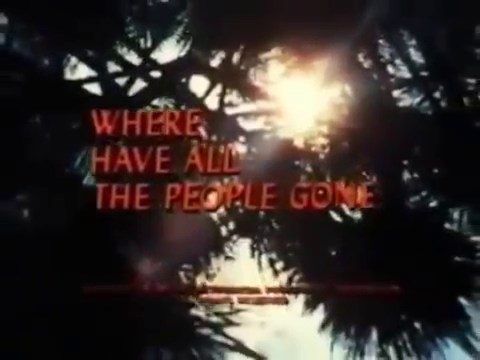 Where Have All the people Gone? (1974)
Film review #513
Director: John Llewellyn Moxey
SYNOPSIS: Steven Anders and his family are enjoying a camping trip in the mountains of California. While Steven's wife, Barbara, returns home for work, the rest of the family stop and enjoy the remainder of their holiday. While exploring a cave, an earthquake strikes and they head outside to find that some form of solar flare has happened, and they can get no communicate with the outside world. The family head home to try and find Barbara, finding that almost everyone in the world has vanished, leaving only white powder where their bodies once were…
THOUGHTS/ANALYSIS: Where Have All the People Gone? is a 1974 TV movie. The film focuses on Steve Anders and his family, as they are on a camping trip in the Californian mountains. Steve's wife Barbara has to return home for work reasons, leaving Steve, their two teenage children, and a local farm-hand. The family are down in a cave when an earthquake hits, and they escape to find the farm-hand outside that some form of bright flash happened in the sky at the same time. Unable to get into any contact with anyone, and with the farm-hand suffering what appears to be some form of radiation poisoning, the family try and get back home to Barbara, along the way finding that nearly everyone who saw the flash of light has died and become a heap of white dust. The story is focused around Steve and his family, and the people they pick up and encounter along the way. Initially starting with no answers, they slowly build up theories about what is happening, but their focus is always on getting home to their wife/mother. The film starts off pretty empty, and with characters that are very cookie-cutter and without personality, but slowly, they start to build up some particular responses to what is going on around them, and things start to pay off. The different scenes are a bit hit-and-miss: sometimes they work, sometimes they don't. As such, the film can feel a bit uneven and disjointed. I don't think there's too much original in the film's portrayal of a world where everyone has disappeared (an idea not unfamiliar to post-apocalyptic films), but it also avoids the common depictions of post-apocalypse scenarios by tuning away from global nuclear fallout and focusing on a family drama. Given that this is a TV movie, which typically focus more on entertainment and action, it is a rare example of such a movie that instead takes its subject matter seriously without the frills.
As mentioned, the characters are very much plain, stereotypical cut-outs, but they do start to grow a little as the film goes on. Steve keeps his family together, while his son David is a science-based person, who unravels a little as the film goes on. Deborah doesn't really have too much to do other than do some occasional narration (which doesn't add too much), and the characters of Jenny and Michael, whom the family they pick up along the way, have small, but interesting character arcs that adds something of substance. By the end of the film, there's some good dialogue and twists that have cohered the characters into a good unit, but they never fully shake off that mould from which they begin.
The open-ended nature of the film leaves us with no real answer about the state of the world and it's survivors: all we know is about are the characters we travel with, and who they encounter, which says very little. This isn't necessarily a bad thing, but might not be for everyone who might want the journey to have a more substantive pay-off. When we are given explanations to what is going on, the science seems a bit far-fetched, such as people being turned into white dust being caused by a large solar flare and a particular dominant gene is a bit much the more you think about it. Again, like most things in this film, if you don't think too much about it and focus on the characters and the depiction of the post-apocalyptic world, you have something that is mildly interesting to watch, if you give it a chance to get going. It's nothing mindblowing or groundbreaking, but there's some competency at work that brings the film together. In terms of TV movies, you can do worse, but you can certainly do better.