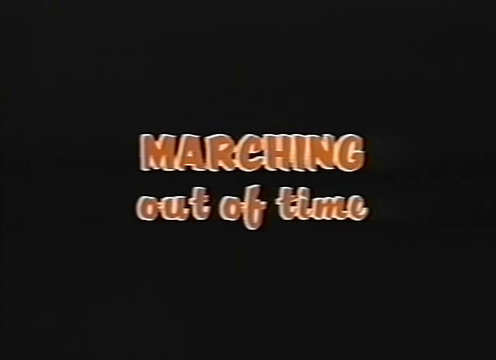 #552 – Marching Out of Time (1993)
Marching Out of Time (1993)
SYNOPSIS: Fred Johnson is constantly hearing noises from his neighbour's house, and is determined to find out the cause of them, much to his family's annoyance. It turns out his neighbour is conducting experiments in teleportation. However, his experiments seem to interfere with a similar Nazi experiment in 1942 to transport troops to England, and instead they emerge in the teleportation device in suburban U.S. Fred and his neighbour must stop the Nazis from returning to 1942 with all the information they have gathered about all the mistakes that cost them the war, and rewriting history to make themselves the victors…
THOUGHTS/ANALYSIS: Marching Out of Time (also known by the debatably better title, Back to the Fuehrer) is a 1993 sci-fi comedy film. The film is set in the suburbs of the U.S., where Fred Johnson is becoming obsessed with noises coming from his neighbours house, much to his family's annoyance. He breaks into his neighbour's house and discovers Dr. Memo, his neighbour, is working on a teleportation device made from a pair of fridges. Unfortunately, the experiment goes wrong, and interferes with a similar experiment from 1942, which involved attempting to transport Nazi troops from France to England. The result being that the Nazis, led by von Konst, arrive not in England, but in Dr. Memo's basement in the 1993 U.S. learning about this, they change their mission, and gather historical information about all the mistakes the Nazis made that cost them the war, and aim to return to 1942 with that information to ensure that they are not made again, ultimately winning the war. The stakes are raised and Frank, Dr. Memo, and a low-level cop must fight to prevent the Nazis changing the course of history. The film is a comedy film so everything is all a bit slapstick and silly. It definitely feels like Back to the Future, but instead of Biff Tannen trying to change history, it's Nazis. The story is fairly linear and doesn't really build up to anything, so it's just an excuse for a bunch of silly scenarios and slapstick violence. There is one scene in the middle of the film in which the serious repercussions of the films events are highlighted, but that's the only one. There's other typical scenes like the Nazis "disguising" themselves in tie dye shirts and exploring the local area to "blend in," but that doesn't really go anywhere, or provide any funny situations. There's not much laugh-out-loud comedic moments, I think it's humour is more situated in the whole ridiculous scenario, and Fred being the last person on earth who should be stopping a Nazi invasion. Also, I guess this is technically a Christmas movie, as Fred is supposed to be going away with his family for the holidays, but stays behind to deal with his neighbour. However, this is the only real reference to Christmas in the film.
In terms of the characters, Fred Johnson is a typical suburban Dad, and a typical comedic lead: one which you'll feel like you've seen in a movie before (but definitely haven't, because the actor didn't appear in any films before or after this). His family are tormented by his nosiness and whining, and you do wonder why they put up with him. Dr. Memo is the typical "mad scientist," and von Konst is portrayed like every nearly every Nazi officer you've seen on film before. the acting isn't bad at all, and the stereotypical characters have a familiarity to them that allows viewers to focus more on the comedic aspect of the film, rather than the characters.
The film, perhaps surprisingly, is made fairly well: it has the look and feel of a low budget film, but actually probably wasn't: the locations are fairly detailed and full of props and things, and the camerawork is pretty good. There's even a few stunts and explosions that, while not overly impressive, would still have taken effort to set up. It's clear the film wants to situate itself in that low-budget parody genre of films, but it has a bit of budget and expertise to make it properly, without making it seem like the film is trying too hard to be a bad film. Marching Out of Time is mostly forgettable, but is made fairly well, and maintains its energy throughout, while exploring the premise of the film well enough. It definitely feels like a film of its time, riffing on Back to The Future a little, with it's typical characters that are familiar enough so as to not need to dedicate a large amount of time to introducing and developing them. Predictable, but silly and fun enough to not be a waste of time.