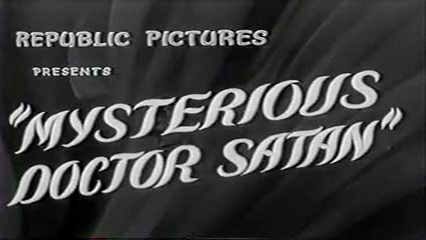 #430 – Mysterious Doctor Satan (1940)
Mysterious Doctor Satan (1940)
Film review #430
Directors: William Witney, John English
SYNOPSIS: A man calling himself Doctor Satan has kidnapped Professor Scott in order to get his hands on a remote control cell that will allow him to build a deadly robot army. Bob Wayne, whose guardian Governor Bronson is killed by Doctor Satan, vows to take revenge against him by disguising himself as the Copperhead, the masked identity that his Father used. Aided by Scott's daughter Lois, secretary Alice Brent, and journalist friend Speed Martin, Wayne seeks to rescue Professor Scott before Doctor Satan can build his deadly robot army…
THOUGHTS/ANALYSIS: Mysterious Doctor Satan is a 1940 movie serial by Republic Pictures. The serial starts out introducing Bob Wayne, whose guardian Governor Bronson reveals to him that his Father was the masked vigilante known as Copperhead (so named because he wore a mask made of copper, surprisingly). Bronson gives him the Copperhead mask, and shortly after Wayne leaves, is killed by Doctor Satan, a scientist who wants to build an army of killer robots. Vowing revenge, Wayne becomes the Copperhead himself to track down Doctor Satan and thwart his evil schemes. The plot is fairly unremarkable as far as serials go: it's a back-and-forth between the heroes and villains as Doctor Satan's various plans are foiled across the fifteen chapters. Despite the story being mostly forgettable, it is fairly well-structured, and there's some suspense and thrill in the action sequences and cliffhangers.
Apparently, this was planned to be the first Superman serial, but their was some trouble acquiring the rights. There's not much left in the final product to suggest that though, apart from maybe Lois Scott, the daughter of Professor Scott who has been kidnapped by Doctor Satan, might have been Lois Lane, but that's about it. These serials had a really quick turn-around, so it would have been easy to re-write the story without slowing down production. The masked vigilante of Copperhead is fairly standard for the masked vigilante's that star in many of the serials of the era. he is a bit boring though, as it's just a loose copper mask that barely hides his face, yet no one can figure out his identity. There are multiple instances where Copperhead is captured, but noone bothers to just pull the mask off before flinging him into a deadly trap. The rest of the characters are pretty forgettable; the serial has two female characters instead of the usual one, but they mostly play the same roles that women usually do in the serials of this era (i.e being captured or performing secretarial roles). Doctor Satan is also unremarkable in appearance or unique attributes (and his name is probably a bit obvious), and just fits into the role of evil scientist without any quirks. His robot is something a bit more unique, but it looks similar to other robots of the era, mainly being a clunky block of metal that is quite laughable looking back at it.
The production values of the serial are again fairly standard, with enough chases, stunts and explosions to get the job done. The camerawork is pretty good, and offers some more unconventional and dynamic angles to help charge scenes with a bit more energy. Overall though, Mysterious Doctor Satan is simply forgettable, and while not necessarily a badly put together serial, it's dull story will fail to spark any imagination in its viewers.